THE LOVE LADDER
is the
FIRST and ONLY
book to condense all the
secrets of relationship success
into
step-by-step actions
so
you know exactly how to find and build the love you want
. Author Brad McMurrey
has spent
decades
combing through books, seminars, magazines, and electronic media for the essential ideas so
you don't have to
!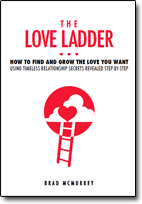 In THE LOVE LADDER you'll discover:
How to make yourself more desirable
What to look for in a romantic partner
How to quickly evaluate someone's long term potential
Whether to stay or move on
and most of all
How to grow the love you've always dreamed of NOW
with innovative,
commitment-oriented exercises.
"Brad has succinctly provided tools for couples wanting to better their relationships. He asks the right questions in his numerous questionnaires, and if I'd had this book 28 years ago, I would have made better choices in my life and marriage."
~ Joan Gerstein, retired Marriage and Family Therapist
"Something for everyone. Just take one lesson with you and your relationship will thank you."
~ Chris and Susan Dreher, married 9 years
"Brad has compiled the secrets we all need for a happy relationship."
~ Sandra Carpenter, novelist, poet, national newspaper columnist
Discover how to build a healthy relationship!
THE SUCCESS LADDER is the FIRST and ONLY book to condense the best of the great ideas from books, seminars, electronic media, and Author Brad McMurrey's 33 years of practical experience on how to succeed at work and in life. The ideas are organized for action as a step-by-step blueprint to career and personal success. The author has done the work so you don't have to!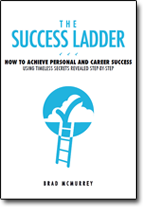 In THE SUCCESS LADDER you'll have:
A lifetime of personal and business lessons
Decades of extra experience so you'll stand out from the crowd
A gift for your children to give them a multi-year head start in life and in business
Best ideas and practices to maximize the performance of all employees in any organization
Become successful at work and in life NOW with specific, effective actions.
"An outline for top-rung success that begins on the bottom rung…a must-read for anyone wanting to be more effective and more upwardly-mobile in any organization… definitely a book that would have benefited me and propelled my career upward…a real asset to anyone, especially those fresh out of college or in any organization."
~ R. T. Sedgwick, PhD. retired research scientist
"[The Success Ladder] has tons of great information…a nugget of truth on every page! You've distilled much of the best motivational and self-help information down to its purest form."
~ Joy Johnson, business owner, former corporate controller.
Discover how to save years of effort and avoid countless, serious mistakes!